Project Background
A New Company:
Tania Stanacyzk has always loved art. From a young age, she took classes every day after school. Her late mother brought her into the world of crafts, and her new company - memories of wood - honors her legacy. memories of wood is Cleveland's home for string art workshops. Whether for a birthday party, a girls' night out, or a company leadership retreat, Tania's workshops blend the ancient craft of string art with modern themes and elements.
Tania
connected with Dylan
through a mutual family friend looking for help to brand her new company and create a simple landing page to house all of her information. The brand needed to blend traditional, wooden roots, while also catering to a modern audience. The landing page needed to be simple to edit, specifically relating to swapping out pictures and adding details of new workshops.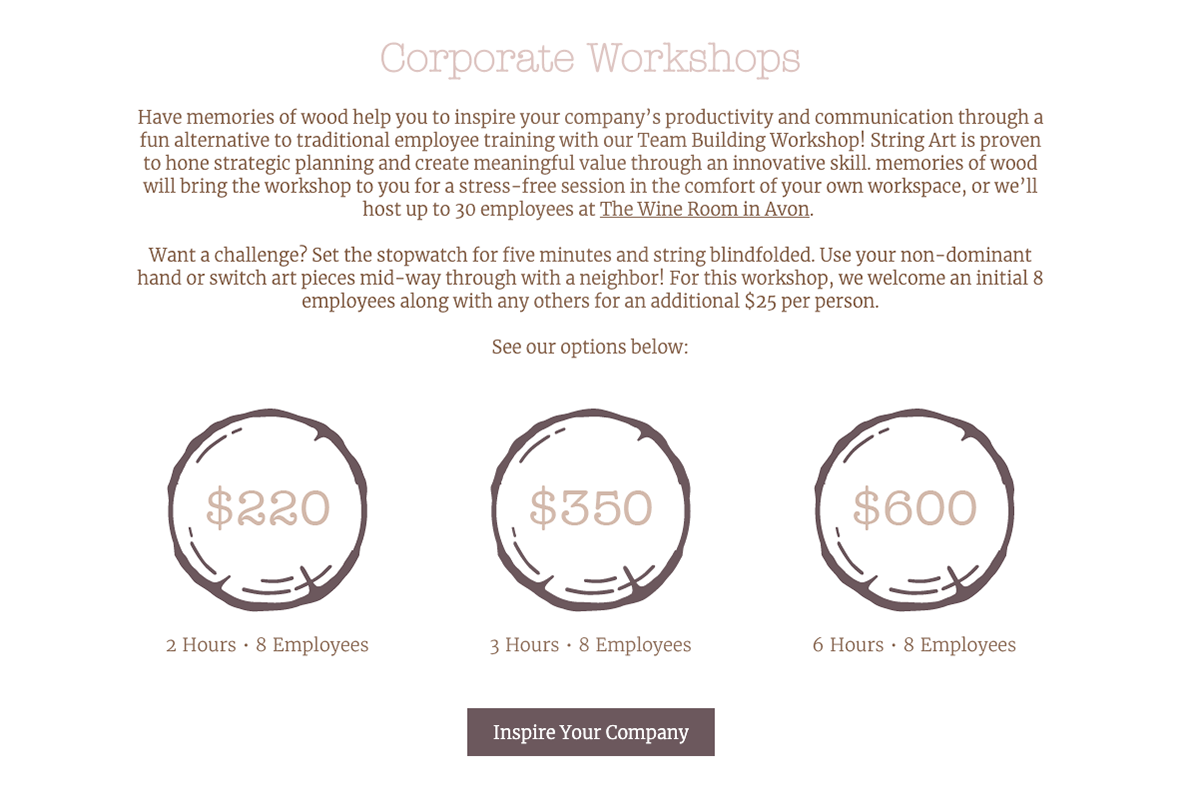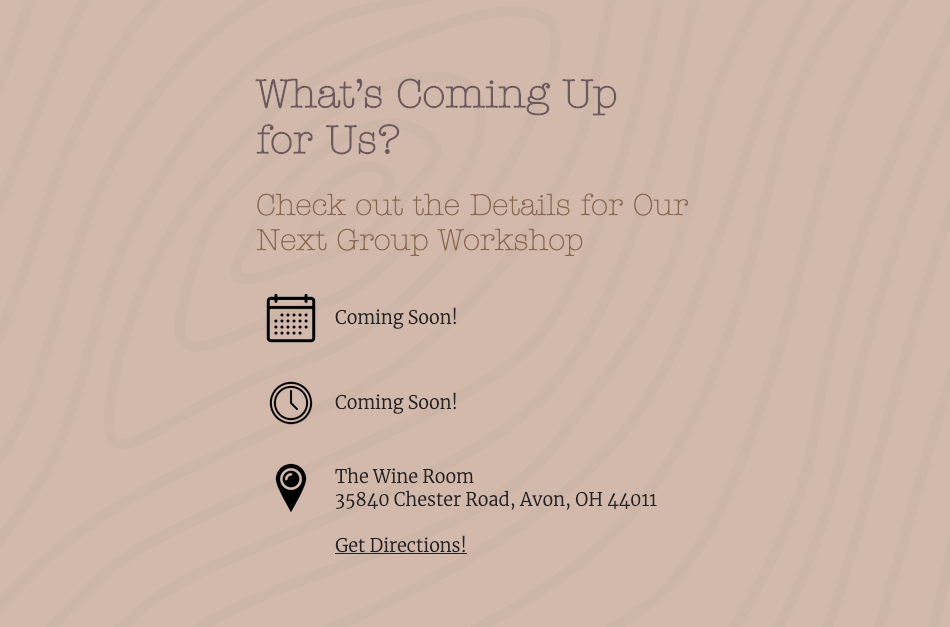 Dylan's First Spark: Branding
When
designing the look & feel of the memories of wood brand
, Dylan strived to maintain a visual connection to wood, as many of the string art creations reside on wood material. As such, the colors chosen are in the rose, plum, and taupe families. These colors are minimalistic and reflect the down-to-earth roots Tania embraces through her workshops. 
In thinking about the brand's relationship with nature, Dylan also chose fonts that had a rustic, yet readable appeal. The fonts are in the Serif family and evoke classical emotions in an easy-to-decipher format. The header font is American Typewriter, while the body font is Merriweather Light.
Tania
came with an idea for a logo
: to have a tree imprinted on the trunk of a tree. Dylan took this idea and then worked to keep the logo flat, like the colors and typography. The result is an instantly recognizable symbol of the memories of wood brand. 
Dylan's Second Spark: Web Design
Tania requested a
streamlined, easy-to-edit website
for memories of wood. With it being just her, Tania wanted the website to be small with an emphasis on the workshops and projects she does. As users scroll down the page, they can get an entire overview of memories of wood. The copy was provided by Tania and optimized by Dylan for SEO. 
The hero image instantly highlights the connection to wood as it displays a rustic photo of a tree trunk. Scrolling down, the brand colors are juxtaposed with tree trunk rings to add texture while maintaining a flat, minimalist feel. The focus of each section is the photos, as they showcase the opportunities in each workshop. The page is built in a way where Tania can go and swap out images without affecting any other aspect of the website.
This also applies to the bottommost section, which has the details of the next workshop Tania will host. There are a few text boxes that Tania can edit to replace the event details without having to do anything drastic.