Project Background
A Re-Election Bid:
Brian McDonough is a respected civil servant who devotes himself to bettering the local community. Starting in 2011, Brian served as Councilman Ward 1 in Fairview Park. As Councilman, he pioneered initiatives in the city, such as joining the Cuyahoga County Juvenile Court Diversion Program, working to transform Grannis Park, and drafting a "No Texting While Driving" ordinance. After serving two terms, Brian set his sights on Election Day 2019 where he would seek re-election for a third term.
Brian connected with
Dylan to design a landing page for constituents
to travel to upon seeing a paid social media advertisement or receiving one of Brian's campaign materials. The landing page needed to be simple, yet informative for all residents heading to the polls. For advertising, Dylan needed to abide by Facebook's new political advertising policies and employ specific geo-targeting for Brian's ward.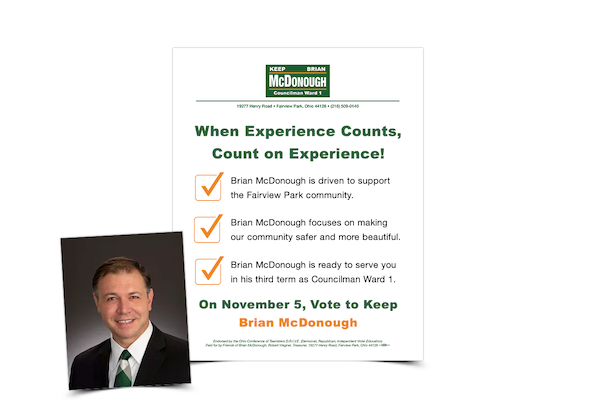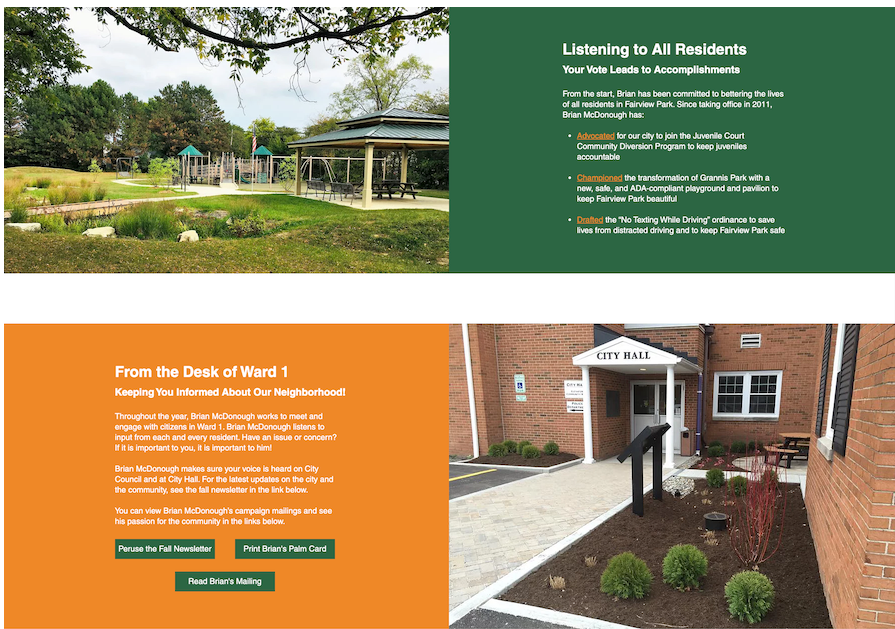 Dylan's First Spark: Web Design
The Keep Brian McDonough Councilman Ward 1
landing page weaved together elements of simplicity and professionalism
. The purpose of the landing page was to inform voters on Brian's accomplishments as Councilman in the terms prior and his qualifications & merits that made him stand out ahead of Election Day 2019. Any visitor to the page would gain background information on Brian, highlights from his first two terms in office, campaign materials, and a simple checklist to aid as a summary for voters.
Brian's print materials for his campaign, including his logo and palm cards were designed by another party involved in his re-election bid. As such, his color palette and logo needed to be incorporated into the design of the website. The final landing page design incorporated his color palette as bold backgrounds for the copy on the page. The green and orange colors were also used for buttons and icon backgrounds.
The landing page followed a very simple structure. In the last content section above-the-fold, voters meet Brian and learn about his personal, political, and professional life. Following this, the two half-sections detail specific accomplishments and Brian's commitment to the Fairview Park community. The page ends with a checklist graphic, superimposed onto Brian's campaign letterhead, for voters to digest before going to the polls.
Dylan's Second Spark: Digital Advertising
Another element of the services Spark Creative rendered to the Keep Brian McDonough campaign was to create and launch a Facebook Ads campaign targeting voters within Ward 1 of Fairview Park. Creating the campaign was a large task, especially given the strictures Facebook has in place to curtail political interference and misinformation, as has become common in other larger-scale campaigns.
Dylan needed to be granted clearance
to run ads on Facebook and had to provide government documents detailing the formation of Brian's campaign.
After being granted the ability to run a digital advertising campaign, Dylan explored how to best target voters within Brian's ward. To ensure the most people could be reached with the campaign budget, users over the age of 18 (legal voting age) that lived within a one-mile radius of Ward 1's center received ads. The ad contained optimized copy, a graphic (above), and a call-to-action leading to the landing page.
Facebook has a policy that no more than 20% of ad creative can be text. As such, a custom graphic needed to be made that both contained the all-text logo and enough depth & spacing to ensure it followed Facebook's policies. The advertising campaign was very successful and led to many users accessing Brian's website.